OUR VISION...
Capiz State University envisions itself as an institution of higher learning, imbued with the ideals committed to quality research, extension and entrepreneurship geared towards the attainment of academic excellence, sustainable development and global competitiveness.

MISSION...

Capiz State University is committed to advance knowledge and foster innovations; nurture talents, skills and values; engage in high-impact research, promote entrepreneurship, industry collaboration and technology utilization and provide responsible technological development.


GOALS AND OBJECTIVES:

Capiz State University, Roxas City Unit through its qualified and committed teaching and administrative staff, shall have the following goals and objectives:

* Effective and efficient management
* Quality education/ quality graduates
* Updated knowledge and developed technologies
* Efficient and sustainable outreach programs
* Improved and profitable Production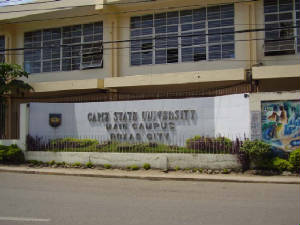 Our Physical Facilities for RENT!!!
CapSU Roxas City - Auditorium

-Indoor Activities
-All Occassions
-Can hold up to 400 persons
Click for more info!!!

CapSU Roxas Covered Gym

-Indoor Activities
-Sports Activites
-All Occasions
-Can hold more than 1000 persons
-Click for more info!!!